Puerto Princesa City confers 2022 Mayor's Awards to the Provincial Government of Isabela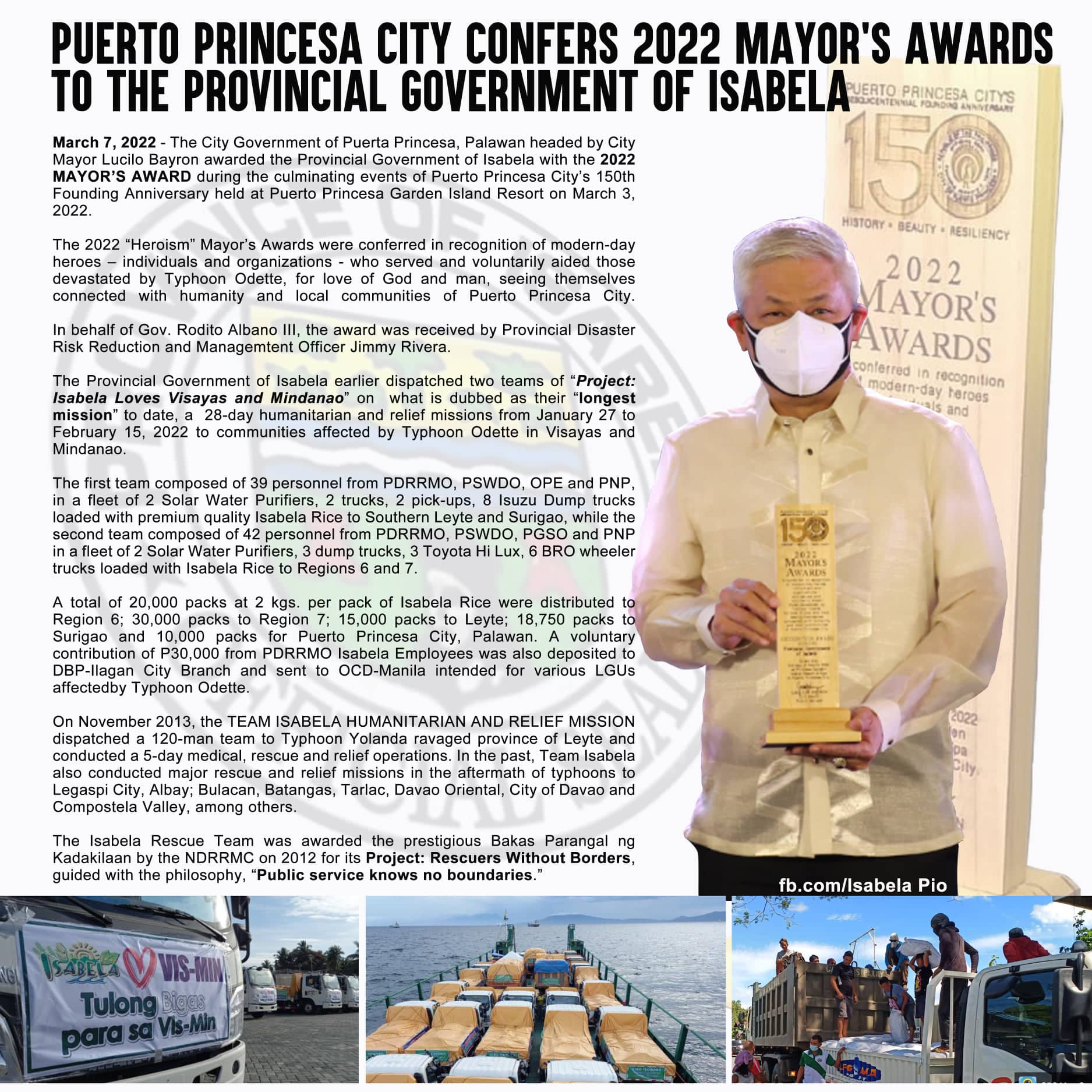 March 7, 2022 - The City Government of Puerta Princesa, Palawan headed by City Mayor Lucilo Bayron awarded the Provincial Government of Isabela with the 2022 MAYOR'S AWARD during the culminating events of Puerto Princesa City's 150th Founding Anniversary held at Puerto Princesa Garden Island Resort on March 3, 2022.
The 2022 "Heroism" Mayor's Awards were conferred in recognition of modern-day heroes – individuals and organizations - who served and voluntarily aided those devastated by Typhoon Odette, for love of God and man, seeing themselves connected with humanity and local communities of Puerto Princesa City.
In behalf of Gov. Rodito Albano III, the award was received by Provincial Disaster Risk Reduction and Management Officer Jimmy Rivera.
The Provincial Government of Isabela earlier dispatched two teams of "Project: Isabela Loves Visayas and Mindanao" on what is dubbed as their "longest mission" to date, a 28-day humanitarian and relief missions from January 27 to February 15, 2022 to communities affected by Typhoon Odette in Visayas and Mindanao.
The first team composed of 39 personnel from PDRRMO, PSWDO, OPE and PNP, in a fleet of 2 Solar Water Purifiers, 2 trucks, 2 pick-ups, 8 Isuzu Dump trucks loaded with premium quality Isabela Rice to Southern Leyte and Surigao, while the second team composed of 42 personnel from PDRRMO, PSWDO, PGSO and PNP in a fleet of 2 Solar Water Purifiers, 3 dump trucks, 3 Toyota Hi Lux, 6 BRO wheeler trucks loaded with Isabela Rice to Regions 6 and 7.
A total of 20,000 packs at 2 kgs. per pack of Isabela Rice were distributed to Region 6; 30,000 packs to Region 7; 15,000 packs to Leyte; 18,750 packs to Surigao and 10,000 packs for Puerto Princesa City, Palawan. A voluntary contribution of P30,000 from PDRRMO Isabela Employees was also deposited to DBP-Ilagan City Branch and sent to OCD-Manila intended for various LGUs affected by Typhoon Odette.
On November 2013, the TEAM ISABELA HUMANITARIAN AND RELIEF MISSION dispatched a 120-man team to Typhoon Yolanda ravaged province of Leyte and conducted a 5-day medical, rescue and relief operations. In the past, Team Isabela also conducted major rescue and relief missions in the aftermath of typhoons to Legaspi City, Albay; Bulacan, Batangas, Tarlac, Davao Oriental, City of Davao and Compostela Valley, among others.
The Isabela Rescue Team was awarded the prestigious Bakas Parangal ng Kadakilaan by the NDRRMC on 2012 for its Project:  Rescuers without Borders, guided with the philosophy, "Public Service knows no Boundaries"
DILG Memorandum Circular No 2022-005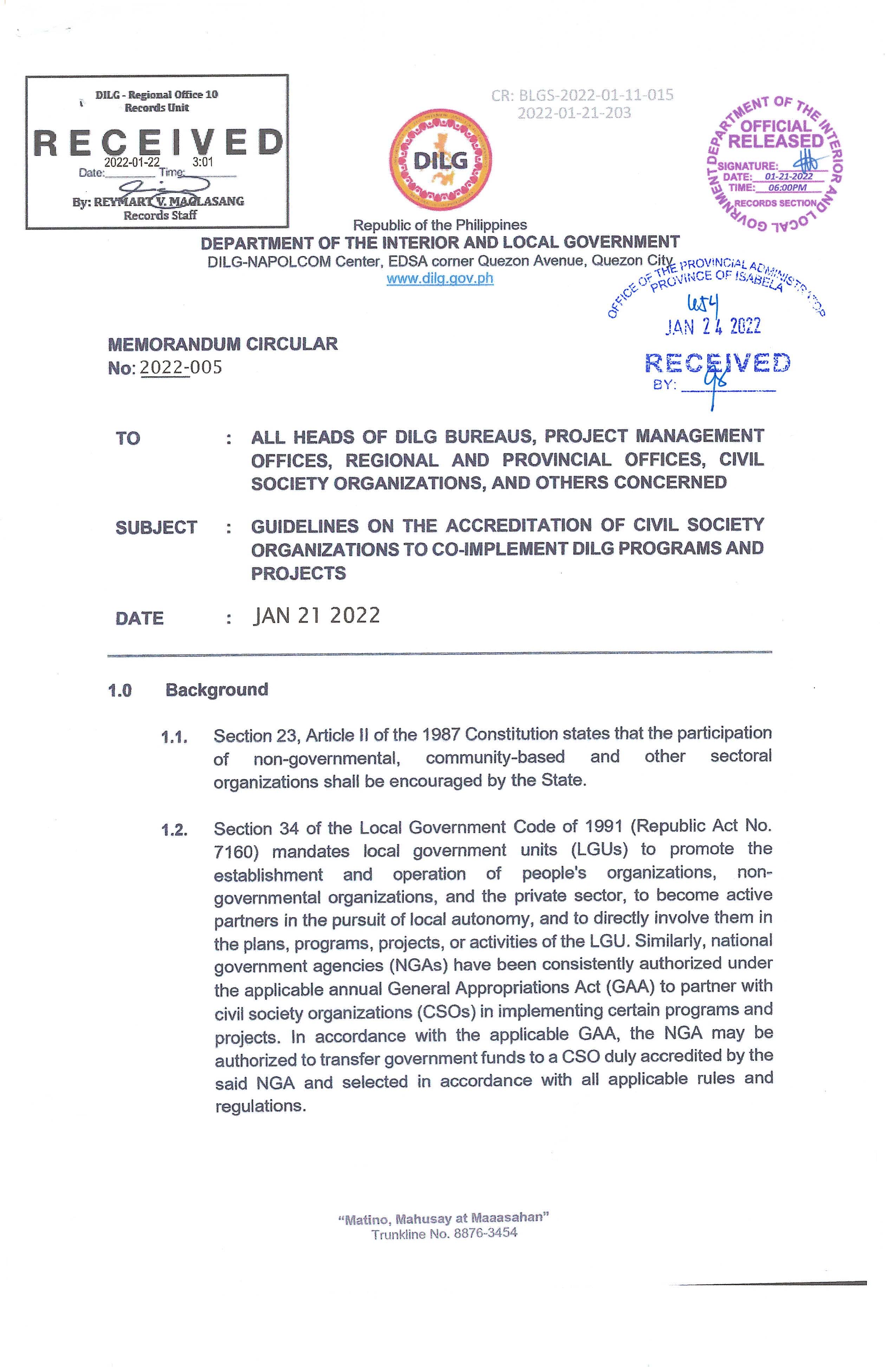 DILG Memorandum Circular No. 2022-005.pdf
Bayanihan Grant to Provinces
Report of Fund Utilization and Status of Program/Project/Activity Implementation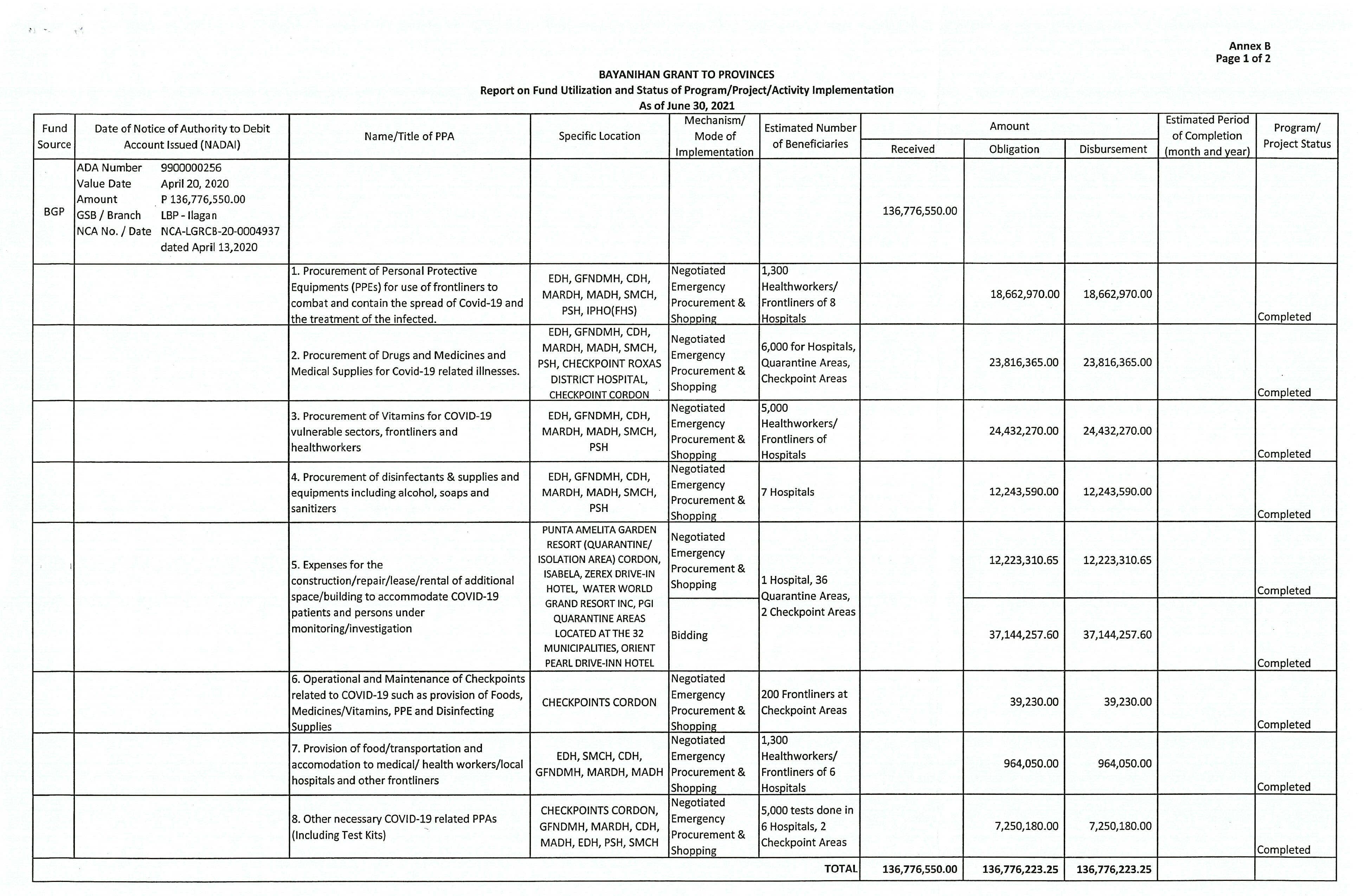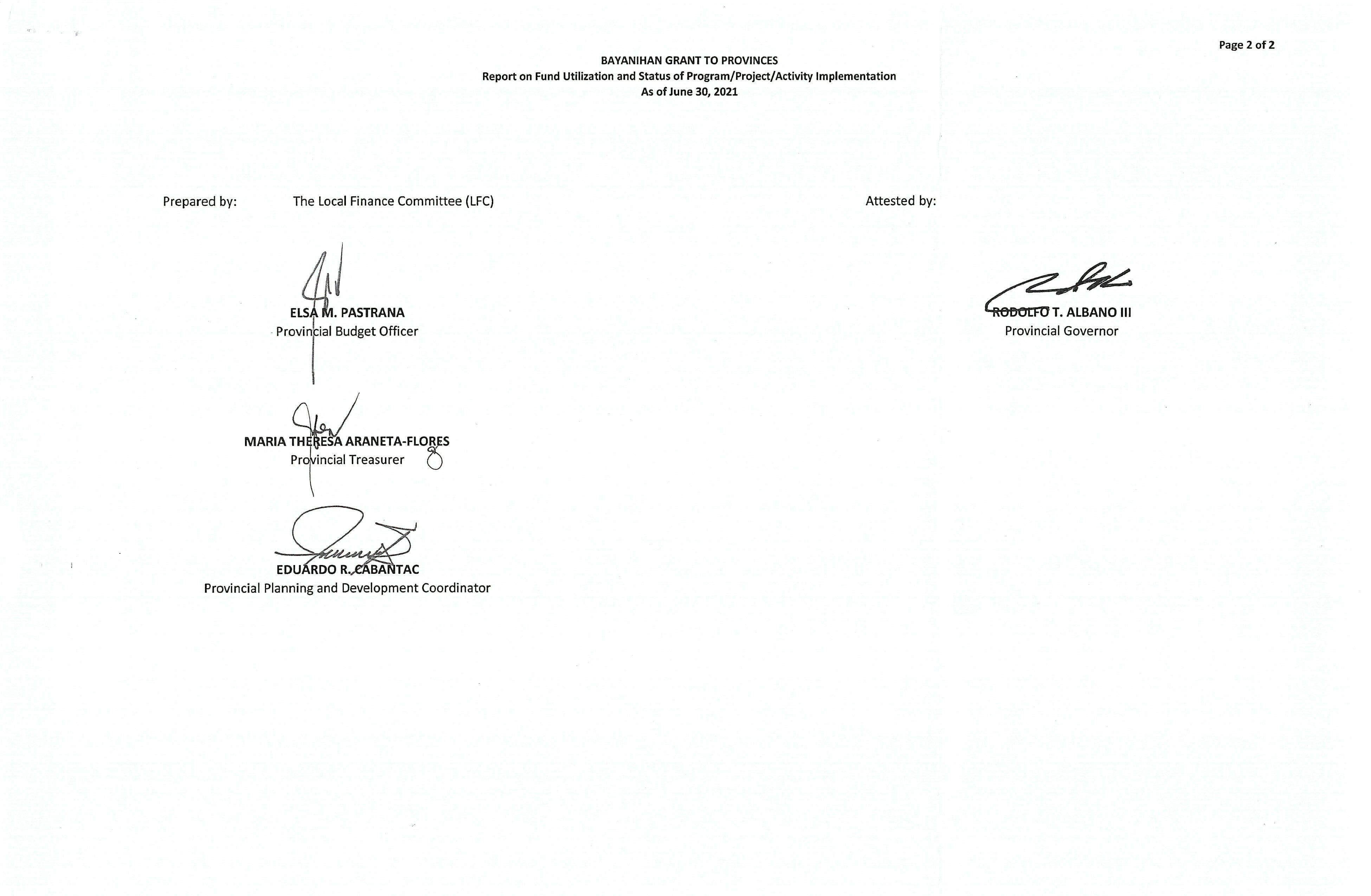 2021
2020