INAUGURAL SPEECH
GOVERNOR RODOLFO T. ALBANO III
June 30, 2019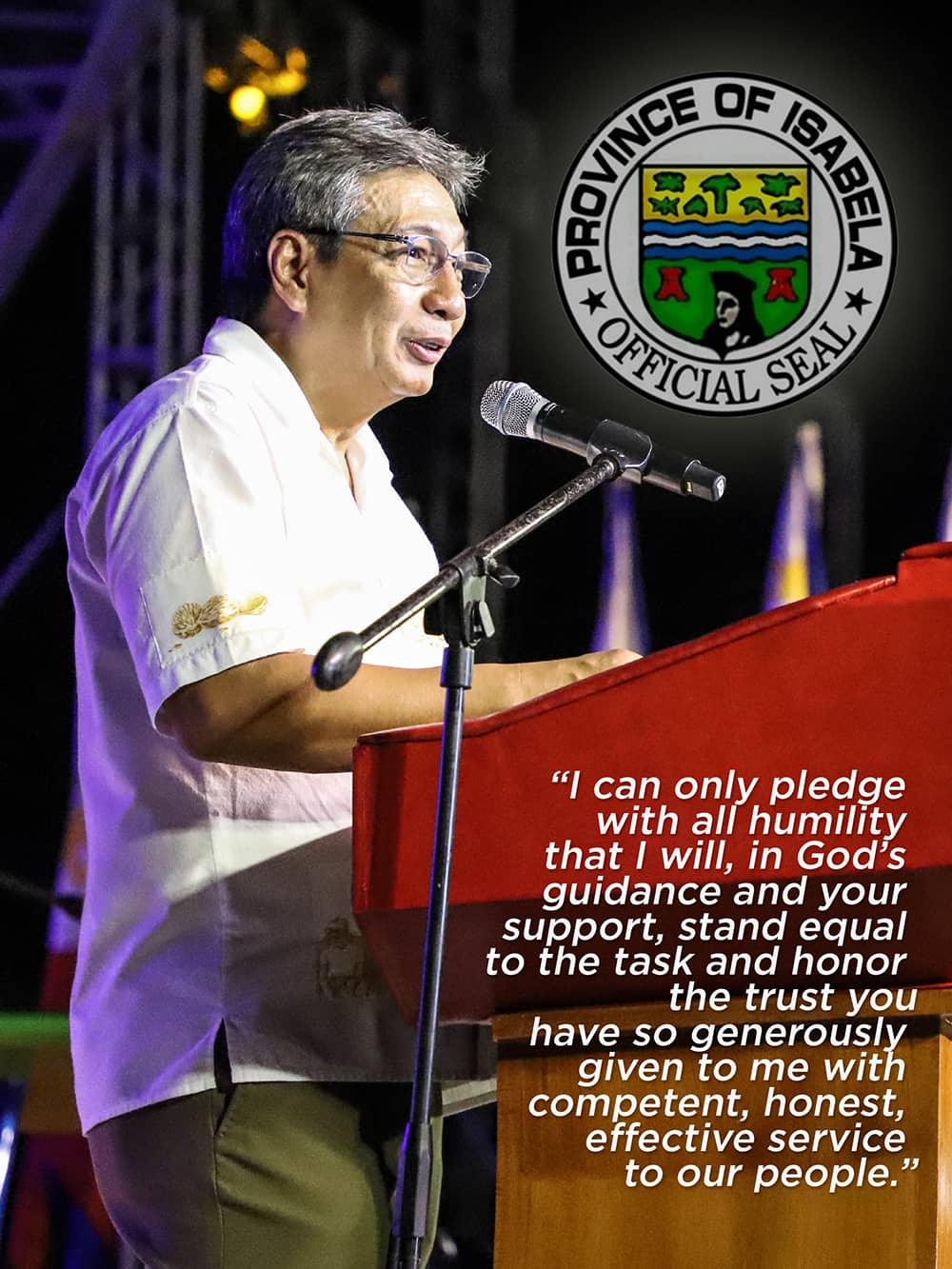 ESTEEMED OFFICIALS OF THE PROVINCIAL,
MUNICIPAL AND CITY GOVERNMENTS OF ISABELA,
REPRESENTATIVES OF THE SIX DISTRICTS OF THE PROVINCE TO THE HOUSE OF REPRESENTATIVES,
DISTINGUISHED GUESTS,
FRIENDS,
PATPATGEK NGA KAILIAN KEN KAPROBINSYA…
NAIMBAG KEN NARAGSAK NGA ALDAW KADATAYO AMIN.
I STAND BEFORE YOU TODAY DEEPLY GRATEFUL FOR THE OVERWHELMING TRUST AND CONFIDENCE YOU REPOSED ON ME TO SERVE AS YOUR GOVERNOR.
INDEED, TO BE GOVERNOR OF THIS PROVINCE OF 1.6 MILLION PEOPLE IS AS MUCH A PRIVILEGE AS IT IS A FORMIDABLE CHALLENGE TO EVEN THE MOST CAPABLE OF LEADERS.
THAT YOU HAVE DEEMED ME WORTHY OF THE JOB FILLS ME WITH PRIDE – AND I CAN ONLY PLEDGE, WITH ALL HUMILITY - THAT I WILL, WITH GOD'S GUIDANCE AND YOUR UNREMITTING SUPPORT – STAND EQUAL TO THE TASK AND HONOR THE TRUST YOU HAVE SO GENEROUSLY GIVEN TO ME - WITH COMPETENT, HONEST AND EFFECTIVE SERVICE TO OUR PEOPLE.
NAPATEG UNAY TI TALEK YO KANIAK – KET PATALGEDAK DAYTA NGA TALEK ITI NAPUDNO, MAPAG-NAM-NAMAAN, KEN NAAYAT NGA PANAGSERBI KADAKAYO AMIN.
BEING YOUR GOVERNOR WAS BEYOND MY WILDEST DREAMS.
INDEED, I WAS RAISED IN A FAMILY THAT GREW IN THE ARENA OF PUBLIC SERVICE. MY GRANDFATHER WAS FIRST A FARMER AND A TEACHER BEFORE HE BECAME CONGRESSMAN. MY GRANDMOTHER WAS A MIDWIFE. MY MOTHER WAS A TEACHER AND A CIVIC LEADER. MY FATHER WAS ALWAYS IN PUBLIC SERVICE - AS A LOCAL GOVERNMENT OFFICIAL AND AS A LEGISLATOR. I WAS BORN WHEN MY FATHER WAS VICE-GOVERNOR OF OUR PROVINCE.
I KNEW, EVEN AT A YOUNG AGE, THAT PUBLIC SERVICE WILL BE MY CALLING IN LIFE. BUT - I ALWAYS THOUGHT MY SERVICES WOULD BE CONFINED ONLY TO THE FIRST DISTRICT OF OUR PROVINCE. GOD, TRULY, WORKS IN MYSTERIOUS WAYS – AND BY HIS GRACE, YOU HAVE ALL HELPED BRING ME HERE - TO THIS DAY- AS I START MY JOURNEY AS THE LEADER OF OUR PROVINCE.
LET ME THEN BEGIN MY JOURNEY AS GOVERNOR BY EXTENDING MY GRATITUDE TO THE PEOPLE WHO HELPED ME WIN THE OFFICE.
I AM PROUD TO SERVE THE PROVINCE WITH OUR FORMER GOVERNOR, NOW OUR VICE GOVERNOR BOJIE DY WHOSE EXPERIENCE AND WISDOM IS, AND WILL BE INVALUABLE, AS WE FORGE AHEAD IN THE COMING YEARS. WHO KNEW THAT THE FRIENDSHIP WE SHARED SINCE CHILDHOOD WOULD LEAD US TO THIS DAY?
DIOS TI AGNGINA GOVERNOR BOJIE FOR THE HONOR OF BEING YOUR VICE-GOVERNOR FROM 2010 TO 2013. YOU ARE, AND WILL ALWAYS BE, A REAL BROTHER TO ME. YOUR FATHER – THE INIMITABLE GOVERNOR DY, SR. - WAS MY GODFATHER IN MY WEDDING, AND I AM AS GRATEFUL TO HAVE HAD THE PRIVILEGE OF WORKING WITH HIM, TOGETHER WITH YOUR OLDER BROTHERS, GOVERNOR BEN DY AND GOVERNOR JUNIOR DY.
I MUST ALSO EXTEND SPECIAL GRATITUDE TO THE MAN WHO UNSELFISHLY SET ASIDE HIS BID FOR THE GUBERNATORIAL POST SO THAT WE ALL CAN STAND UNITED IN SPIRIT AND PURPOSE IN THE SERVICE OF OUR PEOPLE AND OUR PROVINCE.
CONGRESSMAN POL DY – DIOS TI AGNGINA – I WILL ALWAYS BE GRATEFUL TO YOU AND I PRAY THAT WE WILL CONTINUE TO WORK TOGETHER TO BRING A BETTER LIFE TO EVERY ISABELINO.
I AM EQUALLY PROUD TO WORK TOGETHER, HOPEFULLY FOR THE NEXT NINE YEARS – WITH AN OUTSTANDING TEAM OF YOUNG REPRESENTATIVES IN CONGRESS .
WE HAVE A 26 YEAR-OLD LOVELY CPA-LAWYER, ATTY SHEENA, REPRESENTING THE 4TH DISTRICT, THE YOUTHFUL INNO DY OF THE 6TH DISTRICT, THE EQUALLY YOUNG MICHAEL DY OF THE 5TH DISTRICT, IAN DY OF THE 3RD DISTRICT, CHRISTOPHER GO OF THE 2ND DISTRICT, AND MY BELOVED BROTHER TONYPET OF THE FIRST DISTRICT.
THEY MAY ALL BE YOUNG – BUT THEY ARE OUTSTANDING PROFESSIONALS IN THEIR OWN FIELDS CAPABLE OF SPEAKING FOR ALL OF US AND WORKING FOR THE BENEFIT OF THE PROVINCE IN THE HALLS OF CONGRESS.
THERE IS ANOTHER OUTSTANDING MAN IN OUR CONGRESSIONAL TEAM – MY FATHER - THE LONGEST SERVING VETERAN LEGISLATOR OF ISABELA AND FORMER MAJORITY LEADER OF THE HOUSE OF REPRESENTATIVES - OUR OLDEST REPRESENTATIVE BUT THE MOST SEASONED – CONGRESSMAN RUDY ALBANO. FOR THIS, I EXTEND MY SINCEREST THANKS TO CONGRESSMAN ARNEL TY AND ATTY. ALLAN TY.
AS YOU CAN SEE, OUR CONGRESSIONAL TEAM HAS THE VIGOR AND STRENGTH OF YOUTH, AND THE SOBRIETY AND WISDOM OF EXPERIENCE. WE EXPECT ALL OF THEM TO WORK HARD AND TO SERVE ISABELA WELL IN CONGRESS FOR THE NEXT THREE YEARS.
TO MY FATHER, I OWE THE BIGGEST DEBT OF GRATITUDE. HE RAISED ME WITH SO MUCH GENEROSITY, LOVE AND KINDNESS. HE TAUGHT ME THE MOST VALUABLE LESSON IN LIFE – THAT THE BEST LIFE IS A LIFE LIVED FOR OTHERS AND FOR FAMILY. HE HAS BEEN AND WILL ALWAYS BE MY ROLE MODEL – AND I HAVE TRIED, ALL MY LIFE, TO HONOR HIM, BY FOLLOWING IN HIS FOOTSTEPS AND BUILDING ON HIS RECORD OF GOOD PUBLIC SERVICE. THANK YOU DAD FOR EVERYTHING – FOR RAISING ME UP TO BE THE MAN I HAVE BECOME.
I REMEMBER MY MOTHER AT THIS HOUR , TOO. SHE LEFT US TOO SOON AND SHE COULD NOT WITNESS THIS DAY. I IMAGINE HER SITING WITH MY FATHER AND SMILING, HAPPIER THAN ANYONE HERE TODAY FOR WHAT HER SON HAS BECOME. THANK YOU MOM FOR ALL YOUR SACRIFICES AND LOVE – I WISH DEARLY THAT YOU WERE HERE TODAY.
HOW CAN I FORGET TO THANK THE SWEETEST INSPIRATION OF MY LIFE – MY AMAZING WIFE MYLENE – WHO IS ALSO MY INDEFATIGABLE PARTNER IN PUBLIC SERVICE, MY BEST FRIEND AND INCOMPARABLE COMPANION – WHOSE INTELLIGENCE, COURAGE AND GRACE HAS BEEN MY STRENGTH SINCE THE DAY WE BECAME HUSBAND AND WIFE.
A REAL MAN LOVES HIS WIFE AND HIS FAMILY IS THE MOST IMPORTANT IN HIS LIFE. NOTHING HAS BROUGHT ME MORE PEACE AND CONTENTMENT THAN BEING SIMPLY A GOOD HUSBAND MOST OF THE TIME, AND A GOOD FATHER AND OBEDIENT SON ALL OF THE TIME.
          SUCCESS AND EVERY VICTORY WON IN PUBLIC SERVICE, IS THE RESULT OF UNITY IN PURPOSE AND HARD WORK. AS THE SONG GOES, IF WE HOLD ON TOGETHER, AND WORK HARD TOGETHER, WE WILL NOT FAIL ISABELA AND WE WILL NOT FAIL OUR PEOPLE.
MANAYON TI PANAGRANG-AY   TI ISABELA NO MANAYON MET KEN NATIBKER TI INTAY PINAGKAYKAYSA NGA AGSERBI ITI PROBINSYA.
          I CANNOT DO IT ALONE. I AM NOT ALL-KNOWING AND ALL-ABLE- ON MY OWN - TO DO THE JOB. I NEED ALL YOUR HELP. I HAVE MUCH TO LEARN, MUCH TO SEE, MUCH TO STUDY AND MASTER.
THERE IS A WIDE SPECTRUM OF NEEDS OF OUR PEOPLE THAT WE MUST  ATTEND TO ESPECIALLY AMONG THOSE WHO NEED HELP MOST – THE POOREST OF THE POOR.  
AS A PROVINCE AND AS A PEOPLE, WE ARE ONLY AS GOOD AS THE LEAST OF US. WE ARE ONLY AS STRONG AS OUR WEAKEST LINKS. UNTIL WE IMPROVE THE QUALITY OF LIFE OF THE LEAST AMONG US – WE CANNOT BE AS GREAT AND AS PROGRESSIVE AS WE HOPE TO BE.
AND SO - I WANT US TO KNOW THE POOR. KNOW THEM WELL.
WHO ARE THEY? WHERE ARE THEY? WHAT HELP DO THEY NEED? WHAT SERVICES DO THEY REQUIRE? I WANT ALL OF US IN THE PROVINCIAL GOVERNMENT TO GIVE THEM THE HELP THEY NEED WHEN AND WHERE THEY NEED HELP. WE CAN ONLY SERVE THEM THE WAY PUBLIC SERVANTS TRUE TO THEIR OATH SHOULD - IF WE KNOW  THEM AS REAL PEOPLE WITH REAL NAMES AND ADDRESSES - NOT AS STATISTICS IN AGENCY REPORTS. LET US MAKE GOVERNMENT GO TO THEM, NOT THE OTHER WAY AROUND.
          IN THIS SPIRIT, I ASK ALL OF YOU – MY FELLOW WORKERS IN THE PROVINCIAL GOVERNMENT, AND IN ALL LOCAL GOVERNMENTS IN ISABELA – TULUNGAN DAK KADI - WORK WITH ME TO MAKE GOOD AND GREAT THINGS HAPPEN IN OUR PROVINCE ESPECIALLY FOR THOSE WHO ARE LEAST PRIVILEGED.
LET US NOT WAIT PASSIVELY FOR THINGS TO HAPPEN – LET US CREATE THE CONDITIONS, AND ROCK THE BOAT, SO TO SPEAK - TO MAKE GREAT THINGS HAPPEN IN ISABELA.  LET US NOT BE AFRAID TO CHANGE AND TO INNOVATE WHAT WE DO AND HOW WE DO THINGS IN GOVERNMENT. LET US DARE MAKE A DIFFERENCE. LET US DARE TO BE THE DIFFERENCE.
NASA DIYOS ANG AWA, NASA TAO ANG GAWA. NI APO DIOS TI MANGTED TI KAASI, NGEM TI TAO TI AGARAMID TI INNA PAGSAYAATAN. DATAYO TI AGBANNOG TAPNO MAPASAYAAT TI KASASAAD TI PROBINSYA. DATAYO TI MANGARAMID TI PAGRANG-AYAN TI SAPASAP NGA KAPROBINSYAAN TAYO.
TIME FLIES SO FAST. BEFORE WE KNOW IT – THREE YEARS WILL HAVE PASSED. AS IN ALL THINGS – SIC TRANSIT GLORIA MUNDI –GLORY IS FLEETING. BUT - THE GOOD WE CAN ACCOMPLISH WILL OUTLAST OUR TENURE. LET US NOT WASTE TIME THEN – WE MUST WORK HARD AND FAST - TO ACCOMPLISH MUCH GOOD FOR OUR PEOPLE IN THE SHORT THREE YEARS GIVEN TO US.
THERE IS A SAYING THAT GOES, "THE SPRING CANNOT RISE HIGHER THAN ITS SOURCE". I BUILT THE FOUNDATIONS OF MY CAREER IN PUBLIC SERVICE ON THIS BELIEF.
I HAVE ALWAYS BELIEVED THAT YOU, KAKAILIAN KEN KAPROBINSYAAN, ARE THE FOUNTAINHEAD – THE SOURCE OF EVERY POWER AND PRIVILEGE - THAT WE HAVE AS PUBLIC SERVANTS. WE ARE MERELY THE SPRING THAT FLOWS FROM YOUR WILL AND YOUR TRUST.
IN OUR DEMOCRATIC SOCIETY, ALL POWER, ALL AUTHORITY EMANATE FROM YOU, THE PEOPLE. WE, YOUR ELECTIVE OFFICIALS, ARE ONLY TEMPORARY TRUSTEES OF THE POWER AND AUTHORITY THAT RIGHTLY BELONG ONLY TO YOU. BULBULODEN MI LAENG TI TURAY MI KADAKAYO.
AMIN A DAYAW KEN TURAY NGA IGGEM KO KEN NAITED ITI FAMILIAK KADAGITI NAPALABAS NGA PANAWEN AGINGGA ITA – MANIPUD KENNI LOLO DELFIN KENNI TATANG KO NGA NI RUDY ALBANO, AGINGGA KANIAK KEN DAGITI KAKABSAT KO - KET AGGAPU AMIN KADAKAYO. UTANG KO, UTANG MI AMIN ITI FAMILIA MI KADAKAYO. KET TI KAYKAYSUNA NGA MABALIN MI NGA PAGBAYAD KADAKAYO AMIN KET TI NAPUDNO KEN NADALUS NGA SERBISYO.
WE OWE YOU THE BEST SERVICE OUR TALENTS AND LABORS CAN MUSTER. AND THIS IS WHY DURING MY TERM – I WILL NOT ALLOW ANY OFFICIAL OR EMPLOYEE OF THE PROVINCE TO ACT LIKE A MASTER OR BOSS TO ANY CITIZEN IN THIS PROVINCE. KNOW YOUR PLACE – YOU ARE, WE ALL ARE – SERVANTS OF THE PEOPLE, NOT THEIR MASTERS.
AGPAKUMBABA TAYO NGARUD KADAGITI TAO NGA NANGITED TI TURAY NGA IGGEM TAYO. AWAN TI EMPLEYADO WENNO OPISYAL TI PROBINSYA TI MABALIN NGA AGPANNAKKEL KEN AGPARAMMAG KADAGITI TAO NGA UMASIDEG KEN DUMAWAT TI TULONG. AGALISTO TAYO KETDI NGA TUMULONG KADAGITI TAO TA ISUDA TI PAGGAPUAN DAGITI SWELDO NGA PANGBIBIAG TAYO KADAGITI FAMILIA TAYO.
THIS IS WHY - I WILL NOT ALLOW MY NAME TO BE PUT IN SIGNAGES ON PUBLIC WORKS PROJECTS IN THE PROVINCE. KUWARTA TI TAO TI NAUSAR. APAY NGA NAGAN TI OPISYAL TI MAIKABIL KADAGITI PROYEKTO?
I WILL NOT ALSO ALLOW MY PICTURE TO BE POSTED IN ANY OFFICE IN THE PROVINCE. I WILL REQUIRE INSTEAD, THAT EVERY PUBLIC OFFICIAL – THE LOCAL GOVERNMENT LEADERS INCLUDED - DISPLAY THEIR BIGGEST FAMILY PICTURE ON THE WALL OF THEIR OFFICE NEAR THEIR DESK SO THAT THE FACES OF FAMILY MEMBERS CAN BE CLEARLY SEEN BY PEOPLE.
AS THE UKRANIAN PRESIDENT SAID, AND I QUOTE – " I REALLY DO NOT WANT MY PICTURE IN YOUR OFFICES… HANG YOUR FAMILY'S PHOTOS INSTEAD AND LOOK AT THEM EACH TIME YOU ARE MAKING A DECISION."
I WANT EACH OF YOU TO LOOK AT THE PHOTO OF YOUR FAMILY EVERYTIME YOU DECIDE ON DOING ANYTHING OR SIGN ANYTHING IN YOUR OFFICE. ALWAYS BE REMINDED THAT EVERYTHING YOU SAY OR DO, HOW YOU BEHAVE AND ACT, HOW YOU TREAT PEOPLE, HOW YOU DO YOUR JOB REFLECTS ON YOUR FAMILY.  
I WILL FIND TIME TO LOOK AT YOUR FAMILY PHOTOS AS WELL - SO I WILL KNOW WHO YOUR REAL WIVES ARE. I WILL HANG MY FAMILY PICTURE IN MY OFFICE TOO.  LOOK CLOSELY AT MY WIFE NOW SO YOU WILL ALSO KNOW WHOSE PICTURE SHOULD BE IN MY OFFICE.
LEVITY ASIDE, I WILL PUT A PREMIUM ON PERFORMANCE AND I WILL BE INSISTING ON PERIODIC PERFORMANCE REVIEWS TO ENSURE THAT ALL OF US ARE ON THE JOB. I WILL NOT DEMAND FROM YOU THE KIND OF WORK AND DEDICATION THAT I WILL NOT EXACT FROM MYSELF.
I WILL ALSO PUT IN PLACE A PROVINCIAL PERFORMANCE SCORECARD SYSTEM SO THAT OUR PRINCIPAL CLIENTS, OUR MASTERS – THE PEOPLE – CAN JUDGE HOW WELL OR HOW BAD WE DO OUR JOBS.
THOSE WHO PERFORM WELL WILL BE REWARDED, AND THOSE WHO DO NOT WILL BE GIVEN THEIR DUE RECOMPENSE. WE WILL STRENGTHEN AN AUTHENTIC MERIT AND PERFORMANCE SYSTEM IN THE PROVINCIAL GOVERNMENT.
THE AGENDA FOR THE NEXT THREE YEARS WILL BE SIMPLE – INCREASE INCOMES, GENERATE JOBS, PROVIDE DIRECT ASSISTANCE TO THE POOREST OF THE POOR AND ENSURE PUBLIC ORDER.
WE WILL ATTEND TO DEVELOPING SKILLS AND COMPETENCIES ESPECIALLY AMONG THE YOUNG AND PROVIDE OPPORTUNITIES FOR PROFESSIONAL DEVELOPMENT AS WELL AS ENTREPRENEURSHIP AND INCOME GENERATING ACTIVITIES.
WE WILL ALSO CONTINUE IMPROVING THE ARENA OF EDUCATION BY EXPANDING THE SCHOOL NETWORK SO AS TO REACH FAR FLUNG BARANGAYS AND SEEK MORE FUNDING SOURCES TO STRENGTHEN THE CAPABILITIES OF OUR TERTIARY EDUCATION INSTITUTIONS.
WE WILL AIM TO CHANNEL RESOURCES TO MORE AND BETTER PRIMARY HEALTH CARE ESPECIALLY IN MATERNAL AND CHILD CARE, AND ELDERLY CARE – AND WE WILL AIM TO IMPROVE COMMUNAL HEALTH SERVICES DELIVERY ESPECIALLY PROTECTION AGAINST COMMUNICABLE AND ENDEMIC DISEASES.
HAVING BEEN A YOUTH LEADER MYSELF YEARS BACK IN THE KABATAANG BARANGAY, I AM HOPING TO ORGANIZE VOLUNTEER YOUTH GROUPS AND MOBILIZING THE SK TO HELP THE PROVINCIAL GOVERNMENT DELIVER NEEDED SERVICES TO COMMUNITIES THAT NEED SERVICES THE MOST, AND TO UNDERTAKE MUCH NEEDED ENVIRONMENTAL PROTECTION PROGRAMS.
THERE ARE SO MANY TOURIST DESTINATIONS THAT CAN BE DEVELOPED IN ISABELA, AND WE HAVE A RICH CULTURAL HERITAGE THAT CAN BE THE CORE OF HISTORICO-CULTURAL TOURISM.  BY IMPROVING INFRASTRUCTURE THAT CAN MAKE ISABELA'S TOURIST DESTINATIONS MORE ACESSIBLE, AND PROVIDING INCENTIVES FOR THE DEVELOPMENT OF CULTURAL ACTIVITIES AND TRADITIONS, I KNOW WE CAN MAKE TOURISM A MAJOR JOB GENERATING INDUSTRY IN THE PROVINCE.
RESILIENCE MUST ALSO BE STRENGTHENED IN THE PROVINCE. WE MUST BE CONSTANTLY READY FOR THE IMPACT OF NATURAL CALAMITIES AND OTHER CLIMACTIC SHOCKS. ISABELA HAS, IN THE PAST DECADE, BEEN ON THE PATH OF MANY DESTRUCTIVE TYPHOONS.  NEED TO BE MORE PRO ACTIVE HERE. DEVELOPING THE RESILIENCE OF OUR PEOPLE TO NATURAL CALAMITIES AND CLIMACTIC SHOCKS WILL BE AN ON-GOING YEAR -TO -YEAR ACTIVITY OF THE PROVINCIAL GOVERNMENT.
PEACE AND ORDER REMAINS A CONTINUING CONCERN.  EFFICIENT LAW ENFORCEMENT WILL BE PURSUED WITH VIGOR TO CURB CRIMINALITY AND LAWLESNESS, AND WE WILL SUPPORT THE WAR ON DRUGS WITHIN THE BOUNDS OF THE LAW.
THERE IS SO MUCH WORK TO BE DONE. WE NEED TO BUCKLE DOWN TO HARD WORK AND HIT THE GROUND RUNNING. WE WILL NEED ALL HANDS ON THE JOB – AND THE SUPPORT OF OUR PEOPLE AND THE PRIVATE SECTOR WILL BE CRUCIAL.
I PRAY THAT GOD GUIDES US EVERY STEP OF THE WAY SO THAT WE CAN MAKE EVERY MOMENT PRODUCTIVE IN THE SERVICE OF OUR PEOPLE. I ALSO PRAY THAT HE INFUSES US WITH DEEP COMPASSION FOR THE PLIGHT OF ISABELINOS SO THAT WE MAY ALWAYS PUT THEM ABOVE OUR OWN COMFORTS AND SELF –INTEREST.
I PRAY ,TOO, THAT GOD GRANTS US FORTITUDE IN BODY, MIND AND SPIRIT TO OVERCOME THE CHALLENGES AND PRESSURES OF OUR JOB SO THAT – MOST OF THE TIME - WE MAY DO WHAT IS GOOD, AND RIGHT, AND JUST.  
ABOVE ALL, I PRAY THAT GOD PROTECTS US FROM THOSE WHO WISH US ILL AND THOSE WHO SEEK TO DESTROY OUR ENTHUSIASM TO SERVE.
IN THIS JOURNEY, THOSE WHO DO NOT STAY FAITHFUL TO THEIR DUTIES AS PUBLIC OFFICIALS AND THOSE WHO SEEK TO DIVIDE AND DESTROY OUR UNITY WILL FALL BY THE WAYSIDE AS IT HAPPENED IN THE BIBLICAL PARABLE OF SEEDS THROWN ON BARREN SOIL.
I EXTEND MY HANDS IN UNITY AND FRIENDSHIP AND I EMBRACE ALL THOSE WHO ARE SINCERELY WILLING TO WORK WITH US. THOSE WHO DON'T, I MUST LEAVE TO THE KINDNESS OF PROVIDENCE AND TO THE VAGRANT MERCIES OF FORTUNE.
IN THIS SPIRIT, I INVITE EVERYONE – THOSE IN GOVERNMENT AND THOSE IN THE PRIVATE SECTOR - TO WORK HARD WITH US. WITH GOD AS OUR GUIDE, AND THE RESOLVE TO MAKE LIFE BETTER FOR EVERY ISABELINO AS OUR FIGHTING FAITH – WE CAN, AND WE WILL BUILD THE FUTURE THAT ISABELA DESERVES.
DIOS TI AGNGINA KADAKAYO AMIN. GOD BLESS ISABELA. GOD BLESS US ALL!